Canon announces three new imageRUNNER ADVANCE multi-function printer series to meet the demands of modern office environments
LONDON, 16 January 2016: Canon Europe, world leader in imaging solutions, today announces the release of three new multifunctional printer ranges, the imageRUNNER ADVANCE C255/355 series, the imageRUNNER ADVANCE C3500 series, and the imageRUNNER ADVANCE 4500 series.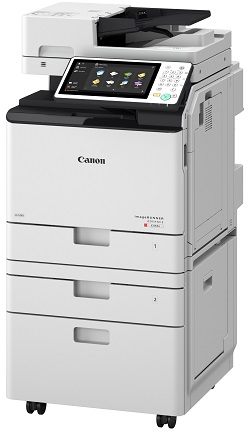 All three ranges are designed to give the same user experience, both for those using the machine and those managing it. With their intuitive controls and straightforward connectivity, they become an integral part of today's more complex office eco-system, integrating with a wide range of document workflow solutions, controlling total cost of ownership, and providing class-leading end-to-end security in a small form factor.
A powerful platform for a connected office
The new devices operate with the latest imageRUNNER ADVANCE platform, which is shared with the already established 6500, C5500 and C7500 series. The shared platform is designed to help customers be more productive in their workplace thanks to the smartphone-like user interface that is common throughout the range. At the same time, it enables smart control of print costs, remote management and repair and outstanding operational efficiency.
Mobile enablement
Canon's approach to mobile working is; to work anywhere, securely with best fit solutions. To support this ethos there are a range of features that are common across all third generation imageRUNNER ADVANCE models, of particular importance is the new mobile working and connectivity capabilities. The platform supports agile working environments by adding mobile connectivity out of the box, with a range of specific setup options to balance capability with security. Modern workflows need to connect to external resources and work in a flexible manner. The platform supports these changes in working with extensive capabilities to connect devices, execute tasks and transfer their documents across the business. The platform embeds itself into a wide range of modern office workflows and supports a range of mobile document handling applications including industry standards such as Apple® AirPrint®, Google Cloud Print and MOPRIA™. The imageRUNNER ADVANCE platform works harmoniously with Canon's uniFLOW document services platform for advanced capabilities in an agile working space that depend on smart devices, enhancing security and driving efficiency yet further.
Leading digital document handling
Digitising documents boosts collaboration and productivity, by giving staff easy access to their documents wherever they are. The imageRUNNER ADVANCE platform offers strong document capture capabilities that can record information fast and accurately, helping you handle documents more quickly and efficiently. Canon's technology makes it easier to create files, convert them and make them editable so they can be processed by software designed to automate business processes or send to cloud storage such as Google Drive, Evernote, Dropbox and others to help with collaboration with the modern way of working.
Return on investment
In addition to creating best-in-class hardware, Canon has also built the imageRUNNER ADVANCE system around an intuitive servicing infrastructure. Engineers and fleet managers can check the status of devices and access information about any required maintenance remotely via PC or mobile devices, improving response time and increasing the likelihood of a first-time fix.
Dan Woodstock, Product Marketing Manager, Canon Europe commented: "With the three new series, Canon is building on the industry leading strength of the imageRUNNER ADVANCE range. In fact, this is now the strongest line-up, to help customers address their total cost of print that we have ever had. As the technology part of any Managed Print Service roll-out, these devices are designed to fit into busy, modern working environments with minimal impact on space or resources. With ever increasing importance on documents and the content within them to businesses, the new devices play a vital role in making workflows faster and more intuitive.
"Businesses are increasingly aiming to make their working environment more agile, enabling users to work through whichever devices they choose, while maintaining security and managing cost. Canon has designed the latest generation of the imageRUNNER ADVANCE platform with this priority in mind, and the consistent interface and cloud connectivity ensure that the platform will support businesses as they grow for many years to come."
The new series will be available from February 2017.
Key Features
imageRUNNER ADVANCE C3500 series
Colour
20ppm/25ppm/30ppm
A3
imageRUNNER ADVANCE C255/355 series
imageRUNNER ADVANCE 4500 series
Mono
25ppm/35ppm/45ppm/51ppm
A3