TS-E 45mm f/2.8
The TS-E 45mm f/2.8 is a tilt-and-shift lens offering an angle of view similar to that of a 50mm standard lens. Tilt and shift mechanisms provide complete control over depth of field and perspective.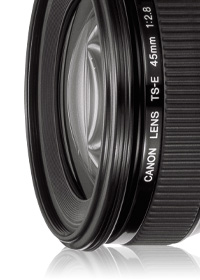 Benefits
45mm tilt and shift lens
Natural perspective with image control
± 8° tilt and ±11mm shift
Rear focusing system
Non-rotating front element
Detailed Features
Take a look at a more detailed look into the Canon TS-E 45mm f/2.8
Product Specification
Find out more about the Canon TS-E 45mm f/2.8, its features and what it can do.
Can we help you choose your next lens?
Our lens selector will take you through our range of lenses and help you find the perfect match for you and your EOS camera.
Lens Guru Mobile App
Understand the basics of photography, and discover how changing lenses can make a difference to your pictures.
or