Print Studio Pro
Canon's Print Studio Pro plug-in provides the perfect workflow link between your image and the finished printed product. This unique software is designed specifically for Canon professional printers and lets you achieve expert quality photo prints with ease.
Installation
Print Studio Pro plug-in is automatically added to the compatible photo applications during software installation. You can also download the latest version of this plug-in for the current PIXMA PRO printers, previous, as well as imagePROGRAF PRO printers.

Starting Print Studio Pro
To start Print Studio Pro open the image (or multiple images) you would like to print in Adobe Photoshop, Photoshop Elements or Lightroom. When using Canon's Digital Photo Professional, simply select the images from their folder.
Main screen layout
Print Studio Pro brings various print functions into one easy to manage screen. Here you can select paper type, size, set colour management as well as correct colour tones of images before printing. The live preview displays selected colour tones and borders ensuring the final results meet your expectations.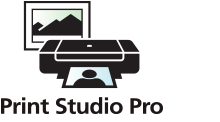 (1) Live preview of the selected image
(2) Tools for cropping and rotating of the images
(3) Thumbnails of all open / selected images
(4) Area for saving and selecting your favourite settings
(5) Print settings area (Paper type, Layout, Colour Management)
(6) Print Button with a setting for number of copies
Key print settings
The print settings area of the Print Studio Pro is where you select the three key settings for photo printing: paper type and size, layout of the image on the paper and colour management (i.e. ICC Profiles).
Paper settings
In Media Type section select either the paper name for Canon's photo papers or paper type for other papers (i.e. Other Glossy Paper, Other Fine Art Paper or Canvas).
Select correct paper size and the relevant paper tray (Rear Tray or Manual Feed). Typically glossy, lustre and matt papers are loaded to the automatic rear tray while the thicker and heavier papers should be inserted to the manual feeder.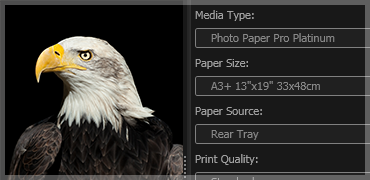 Image layout settings
There are pre-set layouts to choose from like borderless and bordered print as well as 2 or 4 images on a sheet of paper. When printing with borders you can adjust the size of the image simply by dragging its corners in the preview window or choose the exact image or borders size in mm in the layout menu.
You can easily centre the image on the paper using the alignment menu and even add your custom layout to the list (by clicking the plus button) to be available for next projects.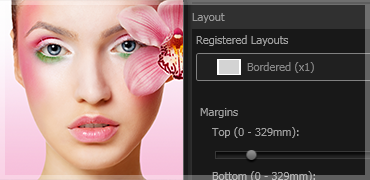 Colour Management
Canon Professional Photo printers allow you to print photos looking as close as possible to the images displayed on the monitor.
For best results set colour mode to ICC profile, set printer profile to 'auto' for Canon papers or select correct ICC profile for other papers. The rendering intent should be set to 'perceptual'.
Additional Settings
Print Studio Pro has additional functions allowing you to achieve results matching your creative ideas. You can add text to the photos; choose black and white photo mode, save favourite settings and many more.
Mono printing and clear coating
Select 'Print Black and White Photo' mode to transform colour image to mono or produce more natural looking black and white photos from already monochrome images.
Choosing 'Clear coat the entire page' option applies Chroma Optimiser (where available) to the entire print resulting in further enhancement of glossiness. As default the clear ink is only applied to areas covered with colour inks.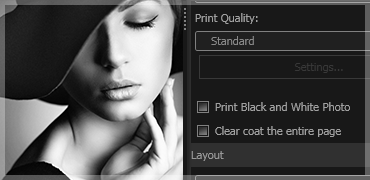 Adding text to photos
In the text setting (part of the layout section) you can add a custom header, footer, page number, copyright information or photo shooting information (if available in the image data).
The text font, size and colour can be customised. For most of the text settings a bordered layout is required.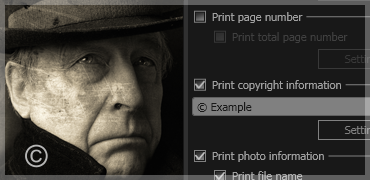 Image Corrections
When printing a black and white image, you can easily specify a tone with a single click to make mono photos with warmer or cooler tone. Colour images can be adjusted in each colour direction.
Pattern print function lets you print a single sheet with thumbnails of your photo adjusted in selected colour direction or brightness and contrast.
CRYSTAL FIDELITY
Canon's genuine image sharpening technology
Although your camera and printer may be loaded with high-performance functionality, there is no way to avoid the attenuation of transmitted light and signals during processing. However, the main cause of this is the difference between the ideal image and an image which is not sharp in detail, and if this is corrected based on the precision data of each, it will be possible to achieve a naturally ideal image. What makes this possible is Canon's superiority in terms of control of everything, from input to output, using Canon products exclusively. Images can be restored to their original sharpness through corrections based on precision data for both ideal and less than idea optical and print characteristics.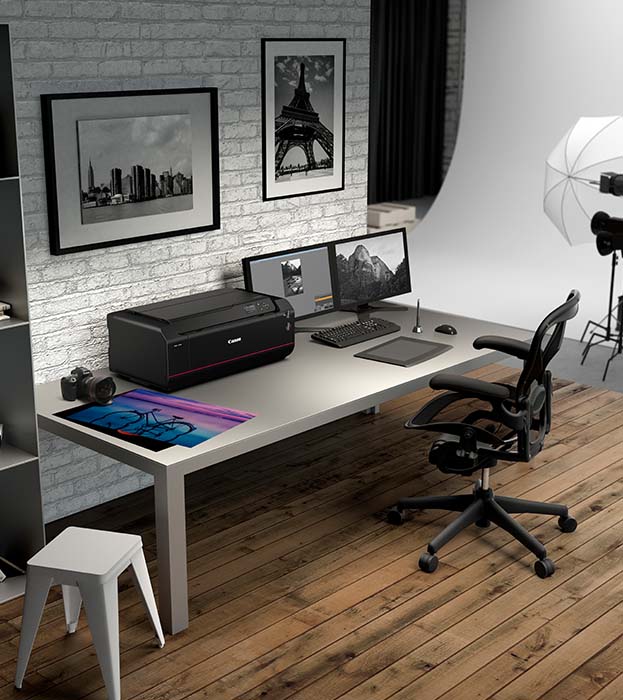 Digital Lens Optimiser
The Digital Lens Optimiser is a feature which can either be found in Digital Photo Professional, a genuine EOS software application designed for processing RAW images, or as a function installed in some cameras. It removes less than desirable optical characteristics from the RAW image data when using compatible cameras and lenses. It is part of Canon's image sharpening technology which is made possible since Canon independently develops everything from lenses and sensors to image processors. In addition to correcting lens aberration, altered light is corrected to its original state using a diffraction phenomenon, low-pass filters, etc. to faithfully and beautifully recreate original images in full sharpness.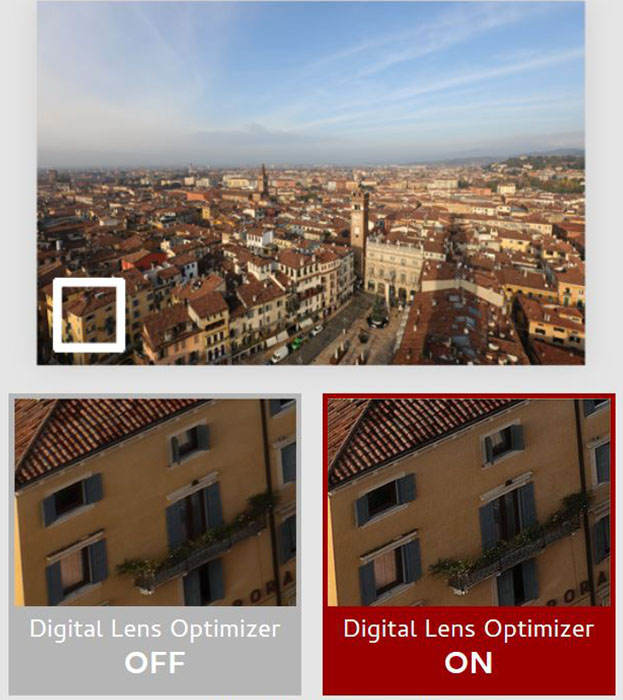 Contrast Reproduction
Contrast reproduction is a function found in Print Studio Pro plugin software which is included with the PRO-1000. This function corrects any loss in sharpness during printing by analysing the differences in the printer and paper in advance. This results in a more faithful recreation of original image sharpness, achieving prints that are full of life. Distinguishing between ideal and less than ideal print characteristics makes it possible to print high-resolution photos that retain the same level of sharpness as the original images.
Professional Print & layout (PPL)*
Using the new print software Professional Print & Layout, high-quality images edited using Digital Photo Professional can be printed while maintaining important qualities such as tonality, sharpness and accurate colour reproduction.
Included with the new software will be a brand new DPRAW print function, which enables printing in true high-definition. Also included with the software will be a HDR print function, which allows highlight areas of an image to be reproduced strongly in print.
Colour reproduction 
Sharpness & Detail 
Tonality
New features
*Releasing early December 2018. Only available with image PRORAF PRO series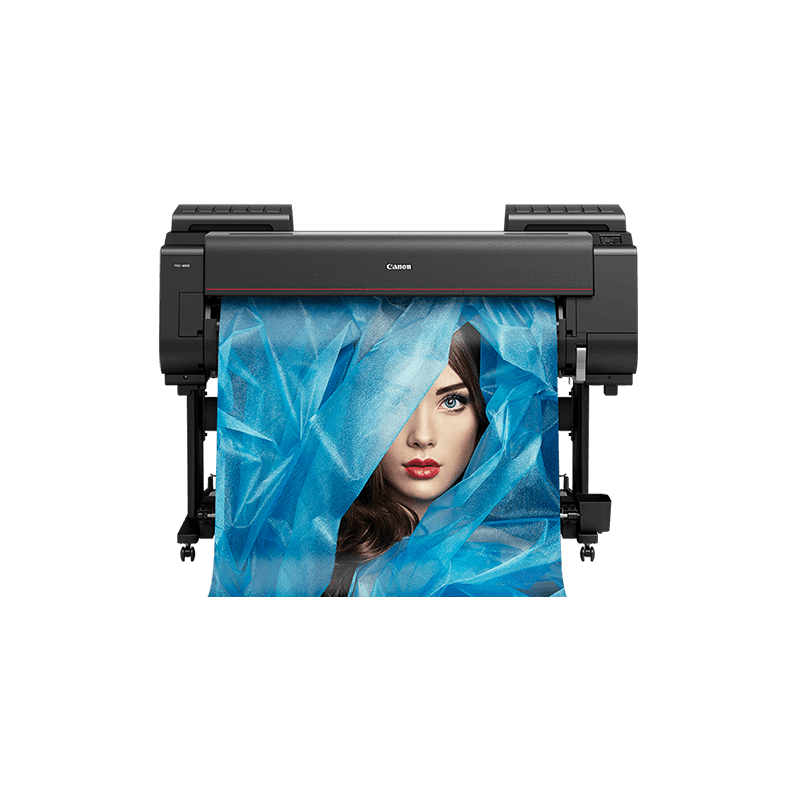 imagePROGRAF PRO-4000
Quickly, easily and reliably produce stunning 12-colour quality images up to 44" in size.
View details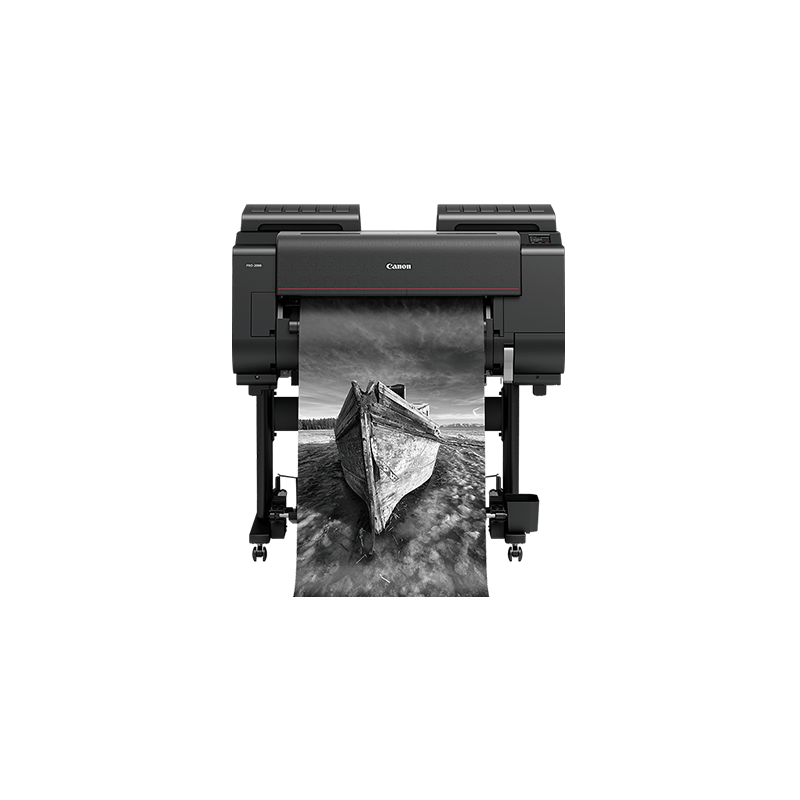 imagePROGRAF PRO-2000
Produce images up to 24" with exceptional 12-colour print quality, outstanding speed and excellent reliability.
View details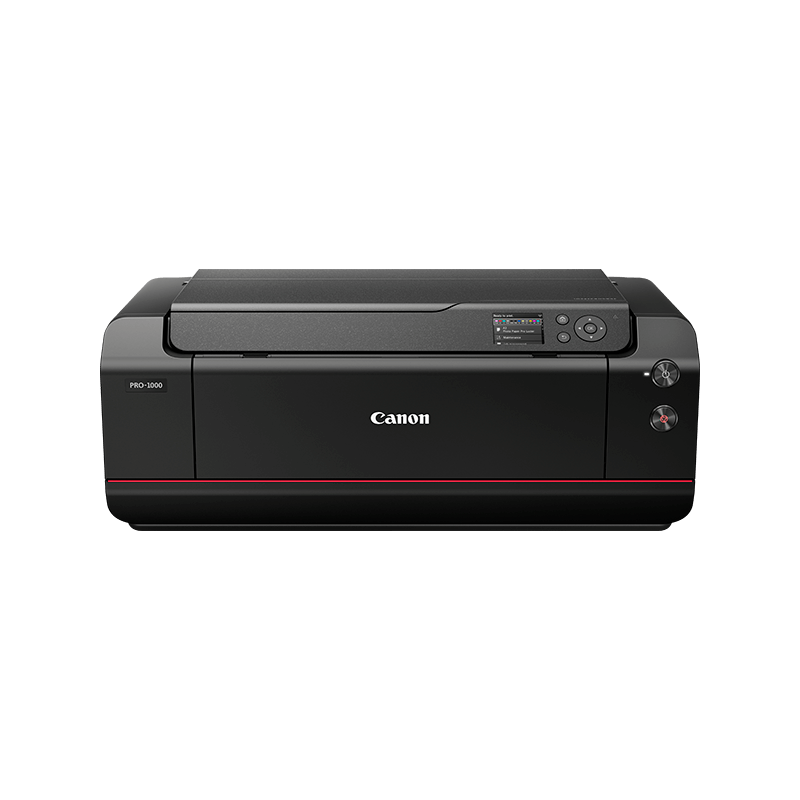 imagePROGRAF PRO-1000
A desktop size printer to serve professional photographers and aspiring amateurs. Print in stunning quality with a 12-ink system up to A2.
View details

PIXMA PRO-10S
This highly accurate, 10-ink pigment based printer produces gallery-quality prints you'll be proud to display or sell. Full cloud connectivity offers easy integration with your favourite professional editing and storage apps.
View details
PIXMA PRO-100S
This professional A3+ printer boasts an 8-ink dye based system for gallery-quality prints you'll be proud to display or sell, plus Wi-Fi and full cloud connectivity for easy integration with existing workflows.
View details

PIXMA PRO-1
Experience the ultimate quality. Create professional, saleable prints with this 12-ink A3+ printer without sending your images to a photolab. High productivity and media support ensure maximum profit.
View details
The recommended viewing conditions for screen to print colour matching:
Screen settings
Colour temperature D50 (5000K)
Luminance: 120 cd/m2
Gamma: 2.2
Ambient light:
D50 fluorescent lamps designed for colour evaluation(Colour temperature: 5000 K, high colour rendering properties)
Brightness when viewing printed materials: 500lx ± 125lx

or