Say hello to hassle-free large format printing
Photographer or professional print-for-pay business, the new imagePROGRAF PRO Series makes high-quality large format printing easier than ever. High-impact posters or the finest of fine art, with 'wow-factor' borderless printing that you don't need to trim or frame. Now you can turn your ideas into print — and profits — faster, and with minimum manual intervention. With five new models, there's an imagePROGRAF PRO for everyone. All feature new levels of automatic media handling and more smart workflow options than ever before.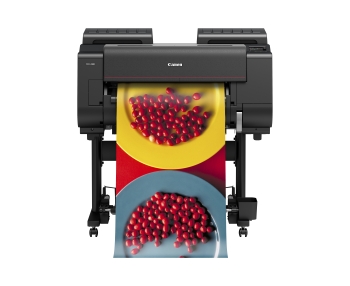 imagePROGRAF PRO-2100 (24" - 12 colour),
imagePROGRAF PRO-4100 (44" - 12 colour),
imagePROGRAF PRO-6100 (60" - 12 colour)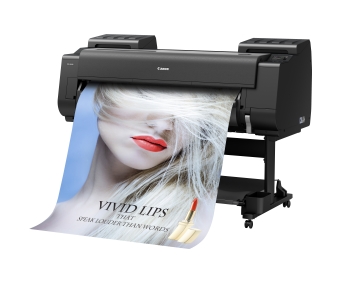 imagePROGRAF PRO-4100S
(44" - 8 colour)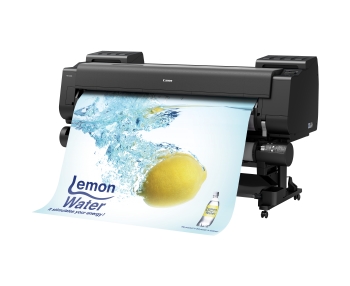 imagePROGRAF PRO-6100S
(60" - 8 colour)
Junichi Wachi, Director of LFP EMEA at Canon Europe, says: "Thousands of businesses are using the imagePROGRAF PRO Series and our signature LUCIA PRO pigment inks to produce vibrant large format prints for graphics, fine art and photography. Now, five new models are here, delivering outstanding print quality each and every time — and packed with technology that does all the hard work. So you can print smarter, faster and with less waste."
AUTOMATIC + ACCURATE MEDIA HANDLING = MORE PRODUCTIVITY
The less time you spend setting up the printer, the better. You're not paid to lose time trying to get the roll in just the right position. Or working out if there's enough paper in the machine to finish your job — or even if it's the right paper in the first place. So we've made it easy. Just put the roll on the feeder and it loads automatically while the new automatic media handling senses the type and size of the paper so you can focus on doing other jobs or bringing in new business. You can even change the media in the second roll unit and send a new job to print while printing on the first roll is still in progress. And it remembers how frequently you use the media and what jobs you use it for too, meaning media detection gets more accurate every time. Because you barely touch the roll, there's no chance of a stray fingerprint spoiling the job.
Remember those times when you thought your job was printing, only to discover the printer ran out of paper halfway through? It's a waste of time, paper and ink. We've made sure it won't happen again. The control panel clearly tells you how much paper is left and if it's enough to print your job. Two sensors, one at the roll unit and the other near the printing area, measure how much media has been fed into the machine. We provide you with an accurate estimate, so when you walk away you know you won't be coming back until the job is finished. We've also put the most commonly used operations – 'Load', 'Feed', and 'Cut' – as hard keys on the display panel to make working with the machine even easier.
Junichi continues: "Print is about getting ideas down on paper. The faster and more easily you do it, the better. We've spent a lot of time talking to our large format customers about what slows the process down — what frustrates them. Complicated media handling tops the list. So streamlining the process was a design priority on the new imagePROGRAF PRO printers, increasing profitability and boosting your bottom line. This is a great improvement especially for the PRO-4100S and PRO-6100S which have been designed with the high productivity print-for-pay market in mind."
GET THINGS RIGHT BEFORE YOU HIT 'PRINT'
A lot happens before you're ready to hit 'print'. Most of it's creative — getting the image just right, for example. Some of it's practical — arranging images to make the most economic use of the area you can print. To do all this, and more, the imagePROGRAF PRO Series benefits from a new version of our Professional Print & Layout software featuring stand-out enhancements.
Automated nesting gets the most out of the media — just drag and drop the images and the software automatically works out what goes where. With pattern printing you can say goodbye to trial and error time-wasting on colour compensation. Instead, print multiple thumbnails to check brightness, contrast and other variables. Printing when it's perfect means no waste.
Junichi says: "Our thinking goes like this: paper and ink are valuable, so don't use them until you're confident that what comes off the printer will match what's on the screen. Professional Print & Layout is a very clever tool that means prints are perfect the first time round."
PRINTING WITHOUT BORDERS
There's no denying the impact of a borderless print. The trouble is, it's not always easy to do, and the finishing can be time-consuming. Not with the new imagePROGRAF PRO Series. Borderless printing in various formats is possible whatever the size of the media, thanks to an advanced media sensor that detects the edges and automatically adjusts the margins for pinpoint accuracy. And you can choose free size or three-sided borderless.