Canon 'Business Days' help print customers unleash their business potential
10th October 2016 – Canon Europe, leader in imaging solutions, inspired more than 400 visitors with a three-day live showcase of production printing expertise spanning Business Communications, Commercial Print, Publishing and Photo Printing at this year's Commercial Printing Business Days in Poing, Germany.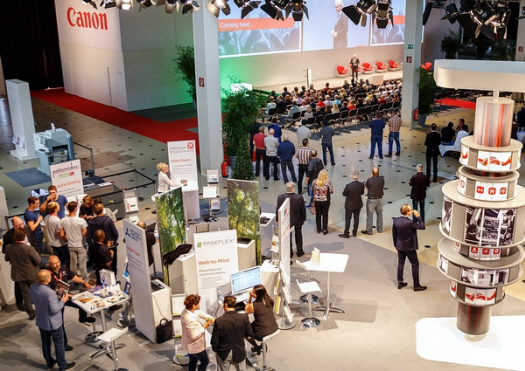 The event, held at the Canon Customer Experience Center from 20-22 September, showed invited print service providers from across Europe how they can unleash their business potential through integrated end-to-end solutions built around innovative technologies, with expert guidance from Canon and its partners.
"We recognise that technology alone does not transform a business," said Peter Wolff, Canon's Senior Director for Commercial Printers & Production CRD. "Customers need to see creative ideas and concepts brought to life and to be able to explore new business models and experiment with diverse applications. Our Commercial Printing Business Days provide a supportive and informative environment designed to help them see a range of possibilities for their individual business."
Reflecting Canon's #UNLEASHPRINT philosophy, the event was structured around a fictional multichannel marketing campaign for a Munich travel agency. PSPs could follow every stage of the campaign journey, beginning with personalised direct mail, directing the target customer to a web landing page, triggering individualised marketing collateral, including a personalised destination magazine, and culminating - after the customer's booking - in a pack of personalised holiday vouchers, a travel guide book and a destination-related special content magazine.
The production of the multiple campaign elements was powered by Canon's PRISMAproduction workflow and output management system, which directed the numerous individual print jobs to the various output technologies, from the Océ Arizona 1280 GT flatbed printer for the folders, to the high-speed colour cutsheet solution imagePRESS C10000VP and the continuous feed inkjet presses ColorStream and ImageStream for the magazines, vouchers and premium direct mailings.
Additional highlights were the many integrated finishing solutions from Canon partners including IBIS, Horizon, Hunkeler and Tecnau. Customers could experience live end-to-end book or magazine production from the printed roll to the finished product - cut, folded and perfect-bound or stitched. Canon also brought many paper partners to the event to share the significant developments in inkjet media being made in collaboration with these suppliers.
Other Canon technologies on show included several drupa 2016 highlights, such as the new Océ ColorStream 6000 Chroma, the Océ ImageStream 2400, the Océ VarioPrint i300 with ColorGrip and the imagePRESS C10000VP.
Peter Wolff concludes: "The Commercial Print Business Days clearly positioned Canon as the partner of choice for customers. We secured several significant orders at the event itself but, more importantly, we gave our visitors a positive vision of a profitable business future with print and reinforced their confidence in their ability to extend their capabilities for the benefit of their customers."