Your photos, our favourites: Fast action
From wildlife that moves at lightning speed to a fleeting summer moment, we asked you to show us your fast action photos. Here's our pick from the images you've shared to our Gallery.
Flight on the carousel by Sergey Yevstafyev
"I took this photo while walking through my beautiful local park in the city of Aktobe in Kazakhstan. It was an afternoon of beautiful summer weather - one of those days where sitting at home is impossible! I noticed two cheerful girls on the carousel and wanted to capture this happy carefree moment with my trusty Canon EOS 400D Digital and recently acquired Canon EF 70-300 L IS USM lens.
I was faced with a tricky choice - how to close the aperture and get greater depth of field. I didn't have a tripod with me and the sun was beginning to drop. It was the golden hour - a beautiful time to take pictures, but at the same time a challenging one.
I set the camera's RAW file format mode, switched to "Aperture Priority" mode with a value of f/10, and adjusted the focal length for better framing. I set the focus manually and waited for the moment when the girls approached. I used the continuous shutter mode to ensure I got the best shot. I am very happy with the results."
Kingfisher diving for fish by David Watkins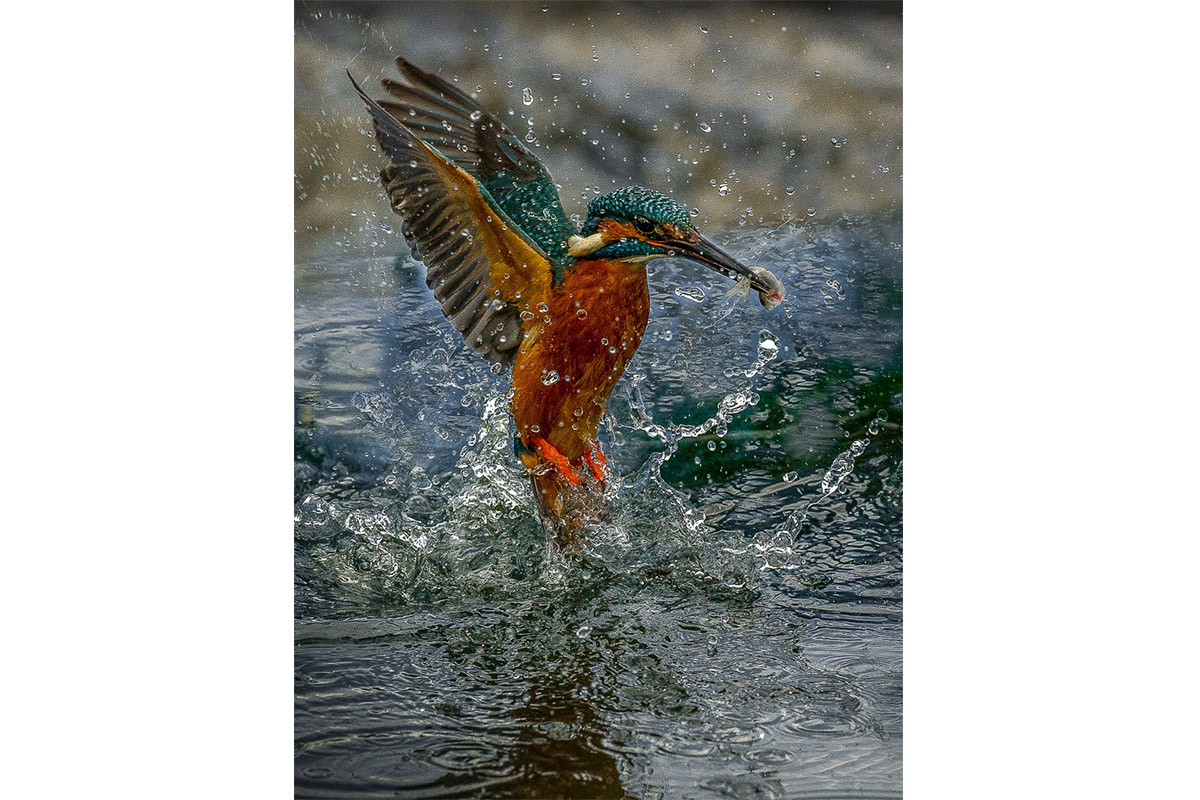 "The image was taken south of Birmingham around Droitwich, Worcestershire in the UK. The kingfishers are resident on a tributary of the River Severn and I was in a hide, which was well camouflaged. It was taken in the spring of 2016.
This image took around ten hours of waiting patiently, taking in the surroundings and shooting using different techniques. I also had to wait approximately six months from researching, planning and booking the hide to the day of the shoot. It was worth the wait for this incredible opportunity to see these birds sitting on a perch, diving for fish and then eating their catch.
As a keen hobby photographer I was fascinated with kingfishers. Their colour, shyness and the speed of their movements make them an ideal subject. I had seen the birds whilst out walking but had never been quick enough to get a picture.
After I arrived at the hide at 8am, I soon saw many male and female birds. They were busy feeding their young and almost constantly flying in and out. I heard their high pitch sound a few seconds before seeing them.
During the first four hours, I had many opportunities to shoot the birds diving for fish. They are so quick and I found it very difficult to get a good shot. I got lots of blurred images, shots of the tail, the head but no luck with the whole bird in focus!
I normally shoot in manual mode and this day was no exception. I used a fast shutter speed of 1/3200 sec at f/10 with an ISO of 2000 and shot in continuous mode. The birds were very active during the morning and I had plenty of opportunity to practice different techniques and settings to try and get that elusive shot.
After a while, I started to think and plan a little more. I focused on the spot where I thought the Kingfishers would enter and exit the water after diving for fish. This was a risky strategy because I did not want to miss anything. It took another three hours before I was finally lucky enough and I managed to get this shot. I was so excited but could not stop shooting in case I missed another opportunity!
Ten hours is a long time to sit in one spot but the weather was kind. I was so lucky and enjoyed every second. I am very fortunate to use excellent equipment with a fantastic lens which I got especially for this trip. Overall I had a very successful day. It produced an image that I love and feel very happy to have taken."
Jakes focus op de bal by Pieter Bezuijen
"The dog on the photo is Jake (a border collie). At the time of the photo shoot he was just eight months old. Unfortunately, he'd just been diagnosed with epilepsy. He started with his medication, but before any side effects could kick in, his owners (my friends Ingrid and Michiel) wanted some nice photos of him on a location where his colour (as he's a tri-colour border collie) would come out nicely. We decided to go to a dog beach between Domburg and Oostkapelle.
As with all puppies he's full of energy. After some quick portrait photos we got to Jake's favourite part: running! As it was still early the beach was nearly empty he could run freely around. Jake was so focused on the ball once it came out of the bag. I asked if my friends if they could throw the ball straight to me and quickly go to the left so the background would look very clean.
My camera (an EOS 70D) was set to manual with a high shutter speed (1/2500s) so the action would be frozen and I used a wide aperture (f/4 as is the maximum of my lens) to emphasise the focus. With the available light the ISO had to be 400.
Getting Jake in good focus while he was running at full speed straight at me was a big challenge, even with the camera's great auto-focus. Often I take some photos sideways on and diagonally as they're easier to take, but not nearly as impressive. In this case I always use just one focus point and AI servo - that gives me more control over the focus area. The photo is taken very low, just above the sand. I'm using the camera's Vari-Angle viewfinder to keep my camera as low as possible. With dog photography, it's important to keep a low angle, normally at maximum the height of the eyes of the dog."

Try this month's challenge
We want to see your photos and hear what inspires your photography, too. Head on over to our Gallery for this month's photo challenge, grab your camera and share your photos with us.