Cityscape Photography Tips
As the sun goes down try out a different kind of cityscape photography, millions of lights give you the chance to capture stunning night cityscapes.
Watch this photographer demonstrate different techniques as he takes pictures of London at night.
Twilight and night photography works especially well in the city. However shooting in low light requires specific equipment and a bit of knowledge.
First off find a good vantage point, try getting up above the rooftops for a view of the skyline; if at street level shooting a city over water such as a river or harbour will produce dramatic reflections.
Often the best time to take a night shot is after the sun sets but before the sky goes completely dark. These shots give a bluish tint to the sky and are often more pleasing than a black sky or one illuminated solely by the city lights.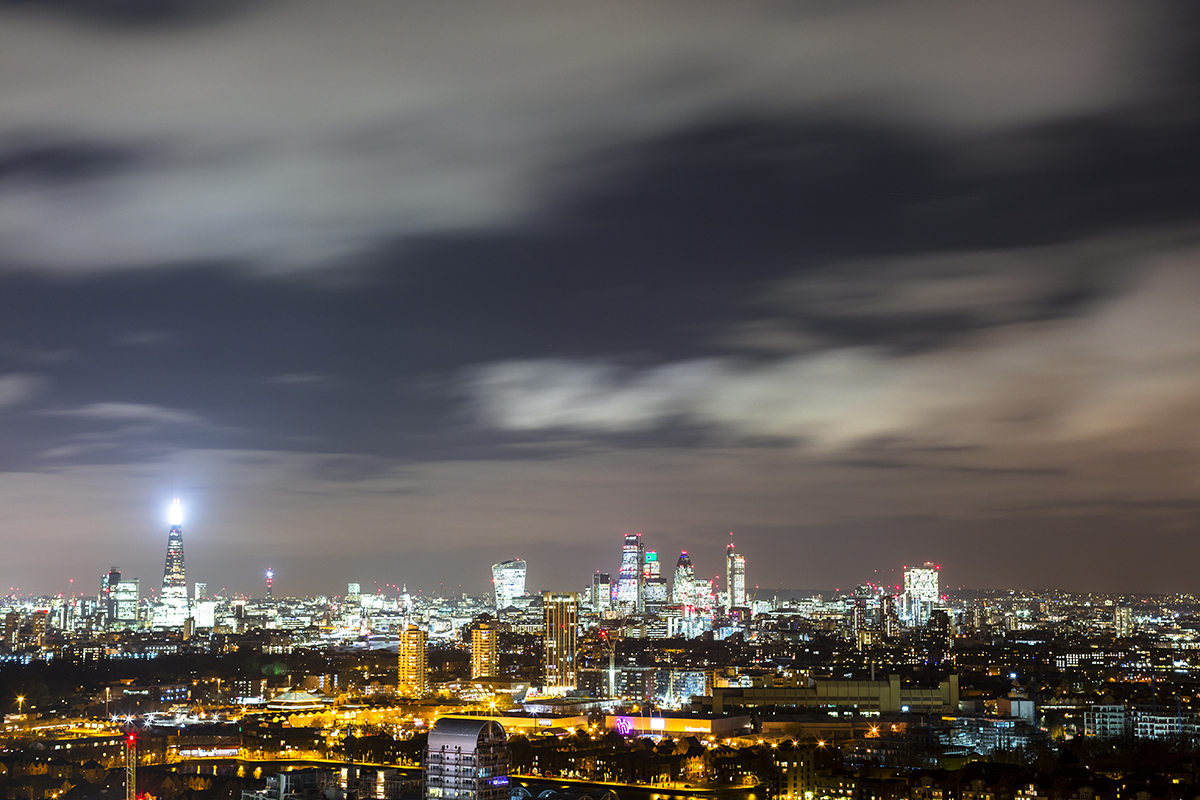 8 sec, f/5.6, ISO 100, shot at 24mm
Using a wide-angle lens and a shutter speed of seconds captures the glow from the city and plenty of sky.
To minimise noise and to keep your image quality high use a low ISO setting and an aperture of around f/5.6. This means using a slow shutter speed so you will need to support your camera to avoid any movement during the exposure.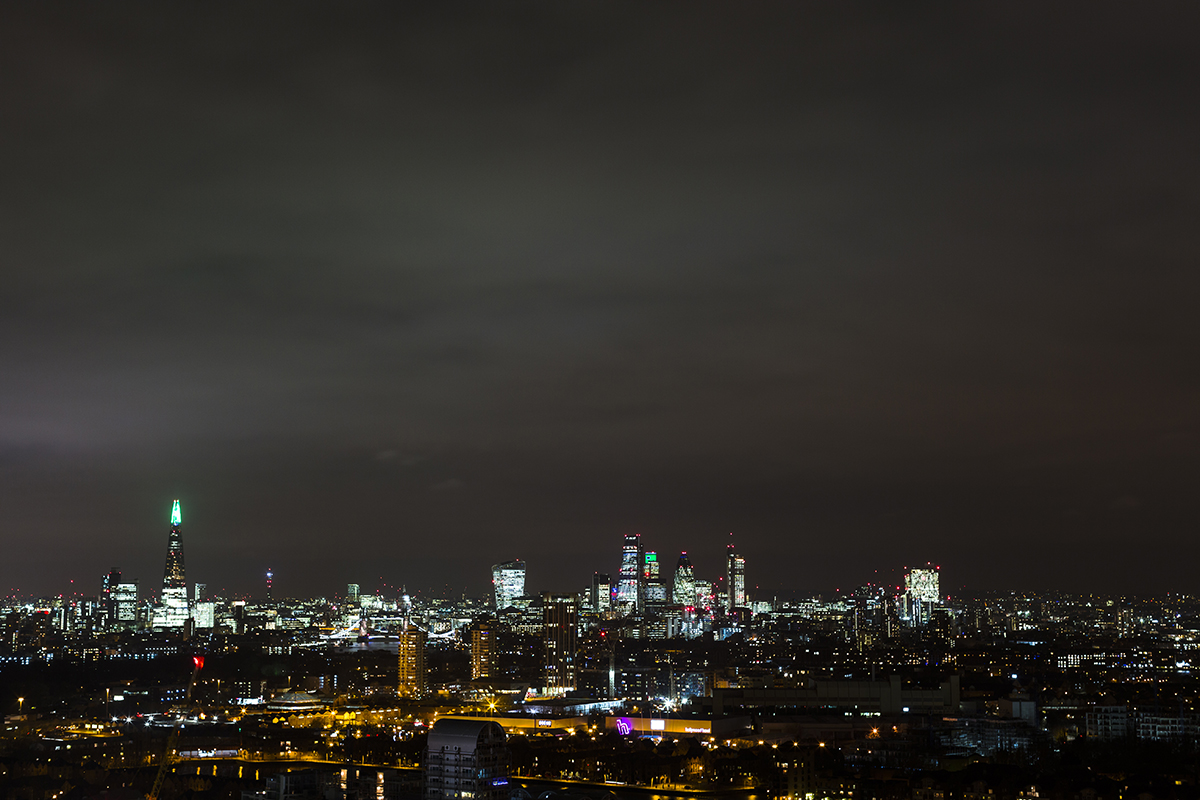 4 sec, f/5.6, ISO 100, shot at 50mm
Using a lens with a focal length of 50mm allows you to focus in on the city lights. Reducing the shutter speed darkens the sky and places more emphasis on the London skyline.
Compose your shot using the live view screen; the illuminated screen is perfect for seeing in the dark. You can make adjustments to your exposure by using Exposure Compensation or in full Manual Mode, checking the screen.
To focus, either select the live view AF, or switch your lens to manual focus and use the magnified live view.
Use a cable release or remote shutter, to enable you to avoid camera shake. Alternatively, use the 2-second timer to give the camera time to settle after you have operated the shutter but before it fires. If your camera has built-in Wi-Fi you can use the Canon Connect smartphone app to control settings, check exposure and take the shot. You can then download the image for instant upload to social media or a blog, all from your phone.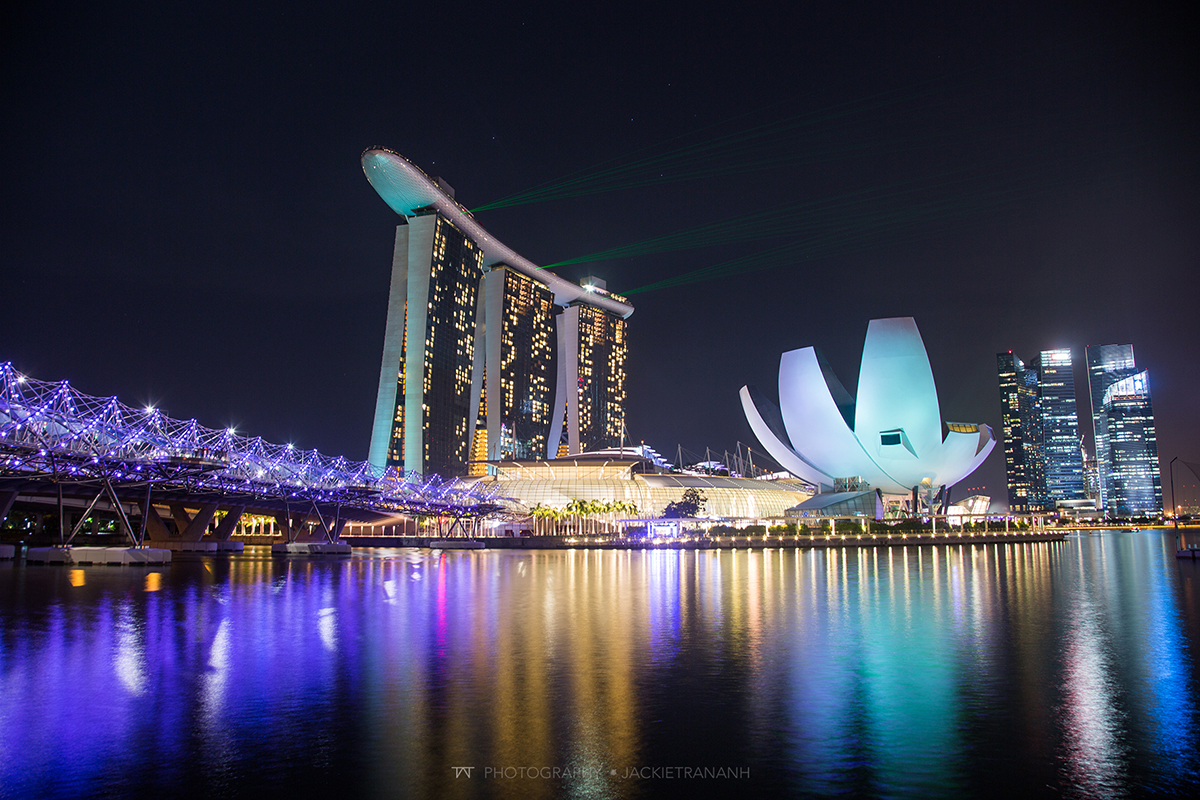 This impressive shot by Mr Jackie Tran makes great use of shooting over water to add light reflections and adding foreground interest to the cityscape.
Varying your white balance will produce different effects; set to Tungsten for cool blue tones or Daylight for a warm glow. For the best image quality and flexibility shoot in RAW format and select the white balance in post-production.
These two London skyline pictures have the same exposure, but have been shot with different white balance for creative effect. The shot on the left used Tungsten and the shot on the right, Daylight.
Take advantage of long exposures by choosing a location that takes in movement such as vehicles passing a distinctive landmark. Set your exposure based on a shutter speed of a few seconds. Wait for the traffic to start flowing before pressing the shutter button. See how the vehicles blur to near invisible whilst headlights and taillights streak across the frame in creative patterns. Vary the shutter speed to alter the effect.
This shot by Adrie van Bijsterveldt uses a long exposure to capture the lights trails of a moving boat on a canal in Amsterdam.
Using the lights of the city as a backdrop can be a great way to produce striking portrait images. For this you will need your camera on a tripod and the flash activated on your camera or an external one fitted. Use similar exposure settings to shooting the city light trails however you may want to raise your ISO to limit the shutter speed to one or two seconds, so your model has to stand still for less time. Alternatively, if your camera offers it, use Night Portrait Mode for a similar setup.
2 sec, f/14, ISO 200, shot at 35mm
Balancing light from a city and light from your flash is a great way to make interesting night portrait images.
The city offers endless creative possibilities, and locations you can use any time of year. Look out for wet evenings, after the rain has stopped, for beautiful reflections, or shoot on crystal clear nights where light pollution is minimised.
Whatever the conditions try your hand at night-time photography when you next stay in a city. Don't forget to upload your best low light images to the Canon Gallery .
Found this article useful and want to learn more about how to take better photos? Sign up to Canon Communications to access new tips and tutorials
Please note: In some cases the values shown for the images are representative to illustrate the different shots taken.