Madrid
A 'unique perspectives' city guide
As part of Canon's continuing 'Come and See' campaign, we've introduced this series of city guides designed to inspire you to take a fresh look at the world.
Cities are packed full of fascinating stories, breath-taking scenes and hidden gems. You just need to know where to look to find them. To inspire you to look deeper, we've teamed up with local photographers to create these exclusive city guides. By uncovering hidden locations from unexpected angles, you'll be able to capture Berlin, Milan, Paris, London, Amsterdam and Madrid in a whole new light.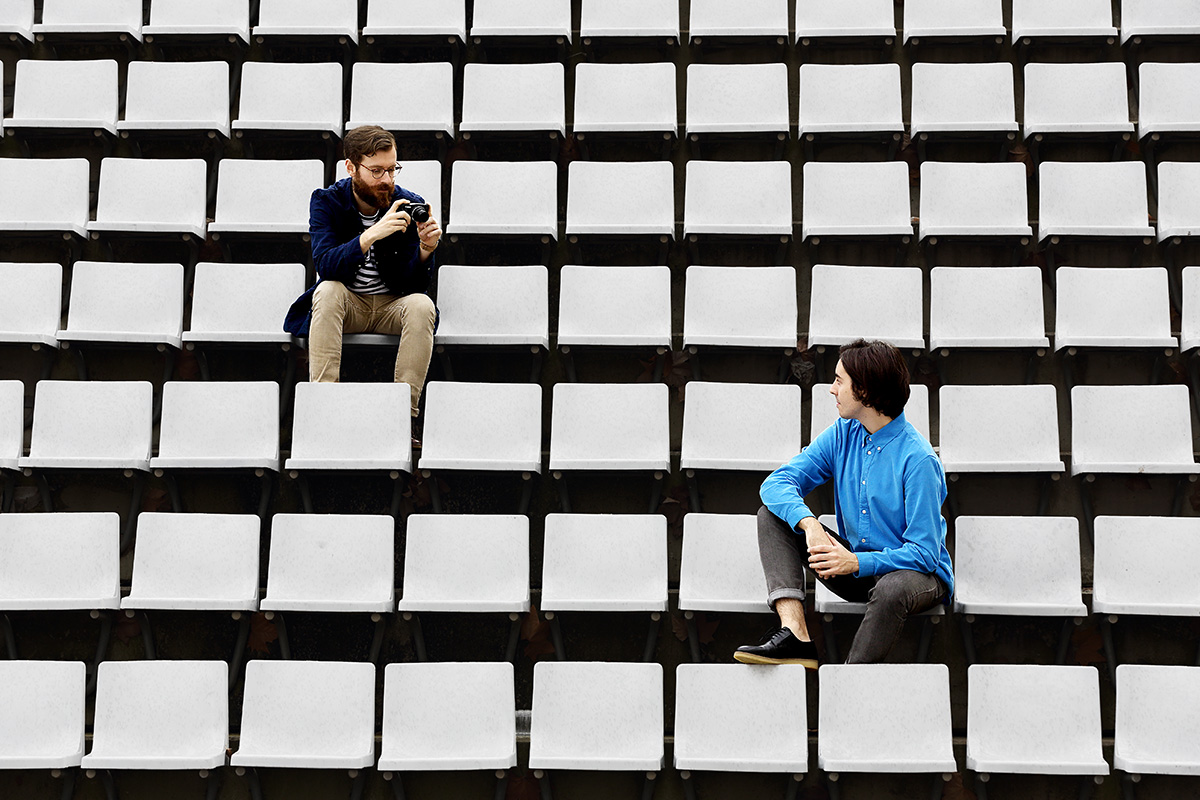 Meet Gabriel and Mike – your guides to Madrid
Madrid locals, Gabriel García & Mike Madrid, are founders of fashion and lifestyle blog Cup of
 Couple. Well known as the "it" couple of the International Blogosphere, they have carved a niche in the world of fashion, lifestyle and design, providing their personal perspectives through the great artistic quality of their photographs and videos showcased on their blog.
Madrid through Gabriel and Mike's eyes
Gabriel and Mike love to express their emotions through photography, finding places, object and viewpoints that are unique to them. They take us to seven such locations and tell us how they approach them photographically to get dazzling images. We also give you some handy tips to help you take better shots and a downloadable PDF which includes a map to help you easily get from one location to the next.
Palacio de Cibeles, Plaza de Cibeles, 1 - 6a floor. 28014 - Madrid
First stop is Palacio de Cibeles located on the Plaza de Cibeles, found at the intersection
 of Alcalá Street and Paseo de Recoletos. Over the years, the palace and its nearby fountain have become symbolic monuments of the city. In 2007, the building was renovated to become Madrid's City Hall. Key architectural elements and details remained, such as the main lobby. From sunrise to sunset, the palace offers incredible panoramic views of the city from its rooftop.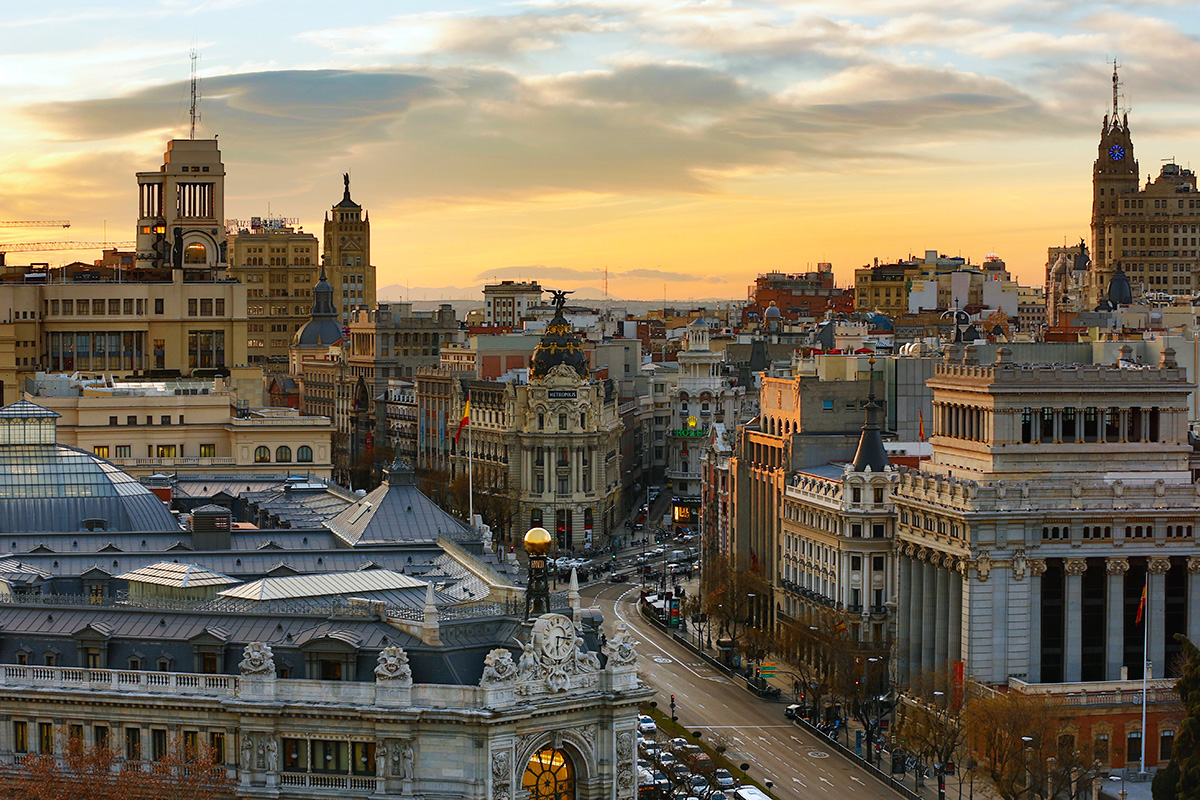 Mike says, "For us, beauty is in the detail and Palacio de Cibeles is bursting with it. The aspects of this stop that really draw us in include the enormous entry hall, the spectacular stained- glass windows and the beautiful ceiling painted in chromatic shades. Look up or you'll miss out!"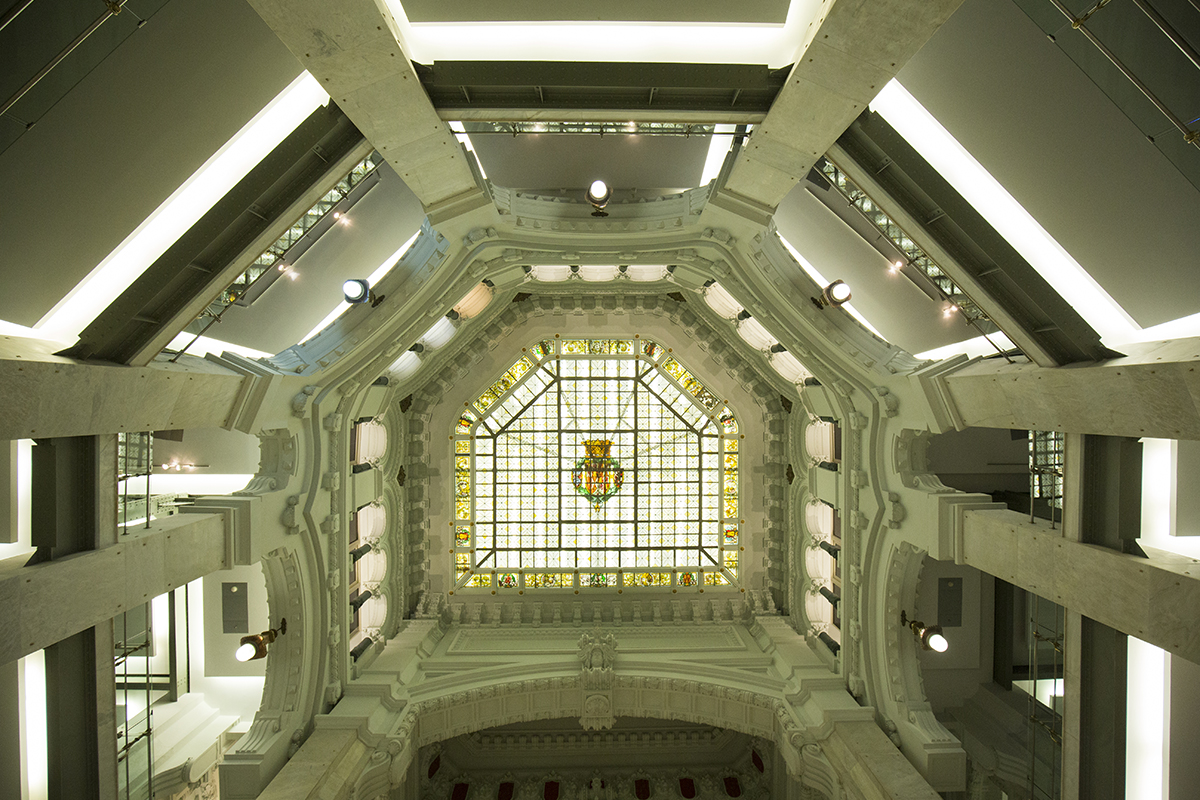 This stop offers breath-taking panoramic cityscape photo opportunities. A top tip is to experiment with the HDR mode on your camera to capture maximum wide-ranging panoramic detail. Also take the opportunity to zoom in and snap away at the astounding architectural detail of the palace.
Mercado de San Miguel, Plaza de San Miguel, s/n. 28005 - Madrid
Next up is Mercado de San Miguel, one of Madrid's oldest covered markets, and a haggling haven for local residents 
since the early 20th century. In 2009, San Miguel underwent a major renovation to focus on the offering of prepared food and, as such, is now considered a culinary cultural centre and one of the only iron markets in operation today.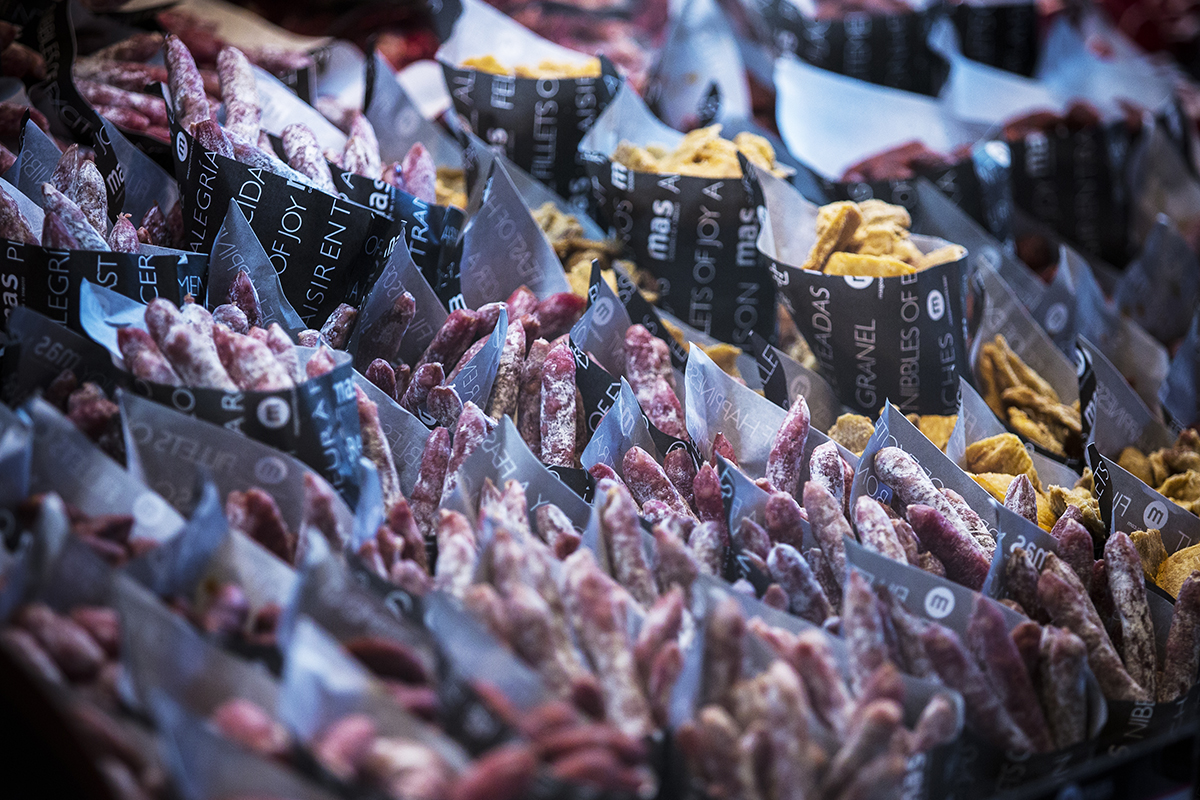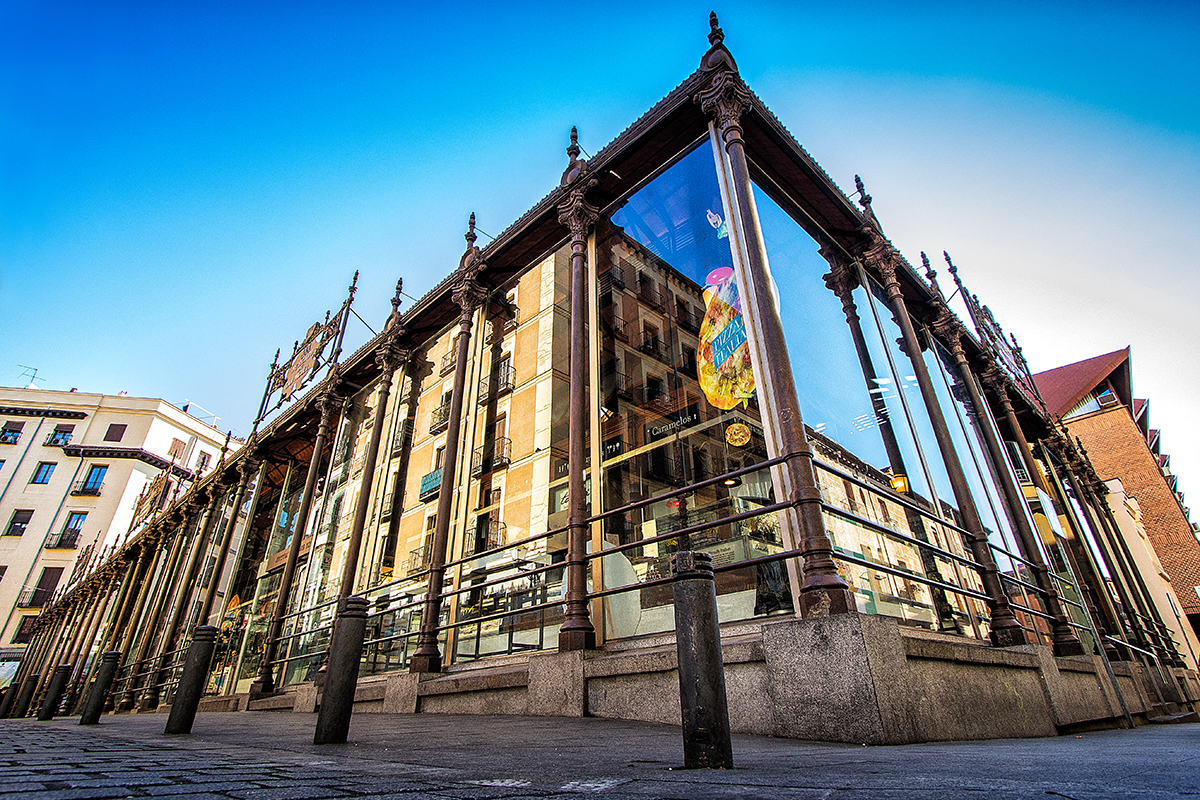 "We love to capture stories on camera and this market is the perfect canvas for doing just that," says Gabriel. "Watch the exchange of money at a stall, friendly interactions between vendors or the rumblings of the market as visitors pour through the gates."
This particular food market is a feast for the eyes with so much to photograph. Take the time to consider what stories and details you want to capture and experiment with a range of lenses, from wide angle to fixed, to offer you as much breath and photographic flexibility as possible.
Petit Palace Posada del Peine Calle Postas, 17. 28012 - Madrid
From a bustling market place to the buzz of the Petit Palace Posada del Peine, Spain's oldest hotel. Founded in 1610, the hotel's architectural structure is really unusual. Consisting of three buildings, each of which features a different architectural style that corresponds to a different era.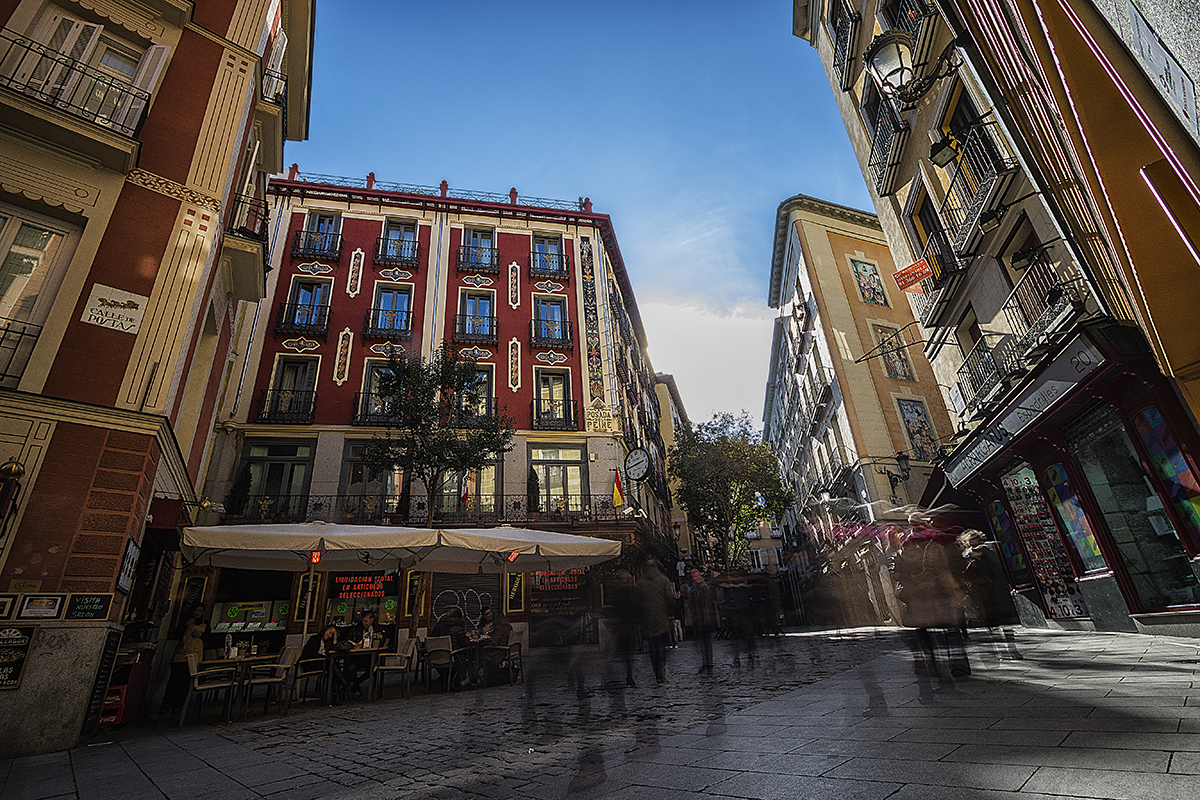 Gabriel and Mike agree, "This hotel is in a great spot in Madrid, right near the Plaza Mayor and only a few blocks from the Plaza Puerta de Sol. Both are full of life – we love to pull up a chair, sit back and snap away at the Spanish street life buzzing away."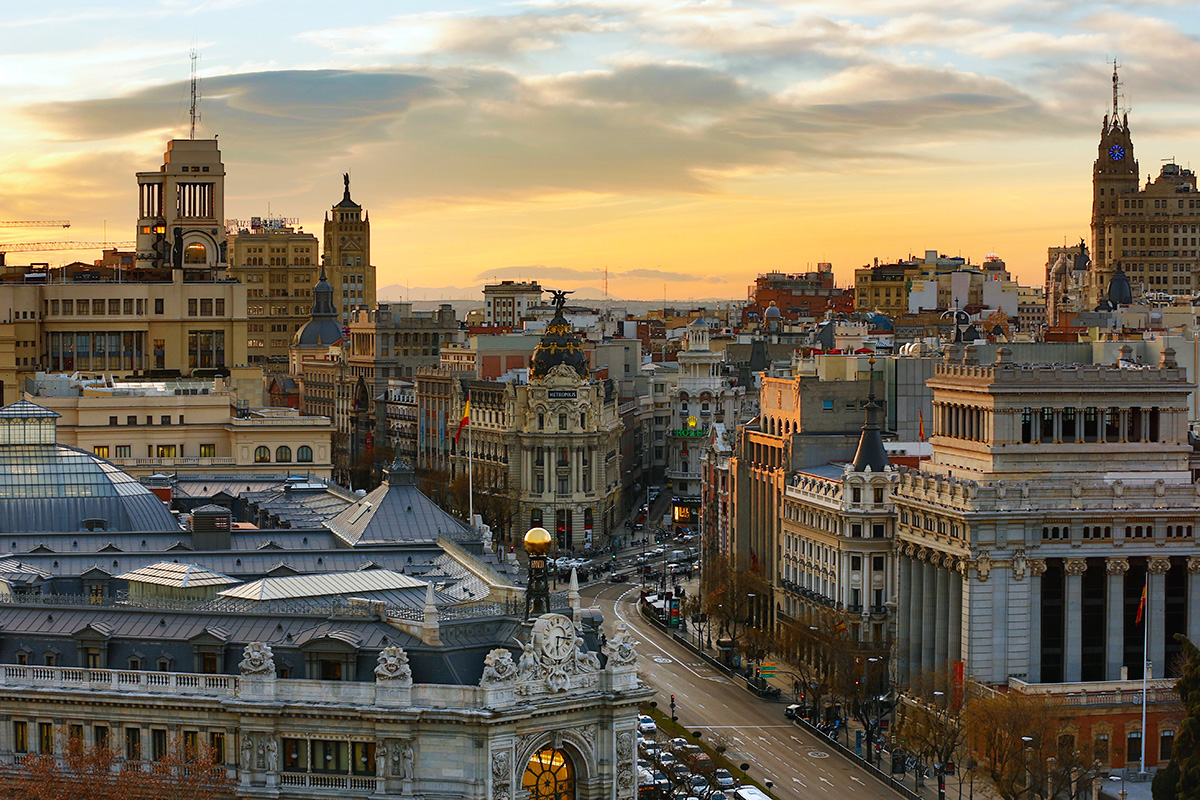 If you want to increase the perceived scale of your image, our tip is to use a wide angle lens to dramatise lines and angles and, in turn, their vanishing points. Architectural photographers tend to use vanishing points to show perspective and scale of vast cityscapes or landscapes.
Casa Yustas, Plaza Mayor, 30. 28012 - Madrid
We walk on, camera in hand to a classic establishment of old Madrid, Casa Yustas was founded in 1886 and is the city's most famous hat shop. Spanning three floors, the charming store sells classic, vintage, modern and military hats. In the basement, you will discover the store's in-house workshop, where they design and produce all of their handmade creations.
"Fashion is one of our greatest loves in life and, as such, this shop is a dream to photograph. We love to take it in turns to try on different styles and capture shots of each other strutting our stuff, catwalk style!" says Mike.
When photographing items boasting huge amount of detail, using a shallow depth of field is a must. An aperture of 2.8 will allow you to pick up felt fabric textures, the silk lining of a fedora trim, or the intricate stitches lining the brim of a hand-crafted trilby hat.
El Jardín del Ángel, Calle de las Huertas, 2. 28012 - Madrid
Next stop is a florist. Not just any florist, but one that used to be cemetery of the Church of San Sebastian. In 1889 the graves were replaced with flowers, establishing a florist shop that remains today. The colourful flowers that you will discover here are amazing, no matter what season of the year it is.
"We love seeking out and uncovering hidden gems with unique stories to tell and as such this flowershop is a favourite hangout of ours," says Gabriel. "A sleepy oasis bursting full of colour and steeped in history," adds Mike.
Before snapping away, think about the composition
 of your image to draw the viewer's eye and tell a story. When it comes to colour, red is a dominate hue so a tip is to pick a single red rose and photograph it against a background of green foliage. This will allow the red rose to become the focus and star attraction of the shot.
Museo Nacional del Romanticismo, Calle San Mateo, 13. 28004 - Madrid
Next on Gabriel and Mike's list of locations is the Museo Nacional del Romanticismo. Here visitors can get a vivid image of what life in Madrid was like during the Romantic period. Housed in an elegant Neo-classical palace on Calle de San Mateo in the Chueca neighbourhood, the museum features paintings and furniture and also boasts a beautiful garden, where you can sit and enjoy a drink in the Spanish sunshine.
Mike tell us, "Museo Nacional del Romanticismo is filled with beautifully preserved furniture, paintings and sculptures from one of our favourite eras. We love to escape there on a weekend and lose ourselves in the beauty and history of the place."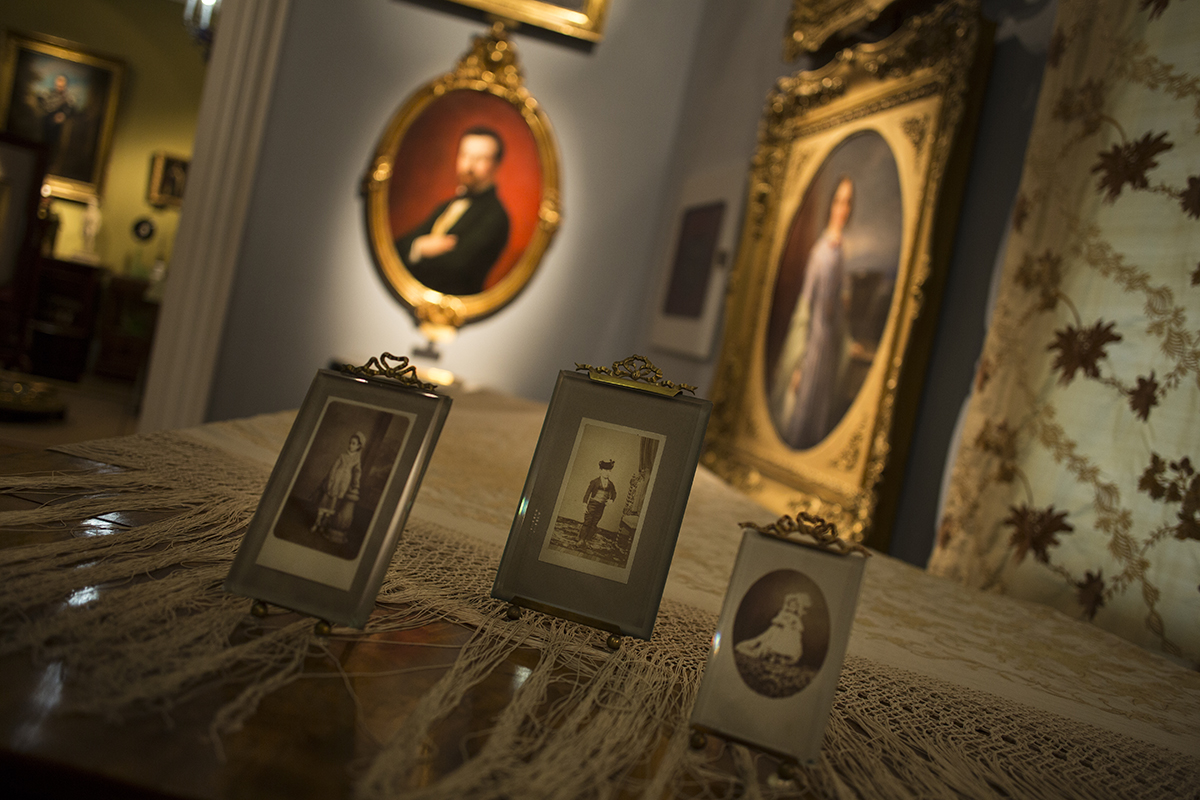 A tip for shooting inside buildings where low-light conditions can cause issues when taking sharp photos is to set your camera to a high ISO or alternatively selecting a faster shutter speed. It's always best to make use of natural light available rather than using your flash as this will only dampen the character of your resulting images.
Estación 
de Chamberí, Plaza de Chamberí, s/n. 28010 – Madrid
Out final stop is Estación de Chamberí, one of the eight stations that originally formed 
the underground railway network in Madrid. When Madrid's platforms were lengthened in the 60s, Chamberí couldn't be adapted because the station 
was built on a curve. It closed and remained so for over 40 years until 2008 it finally reopened after being restored to its original state. It now serves as a metro museum where visitors are transported back to the era of the station's inauguration.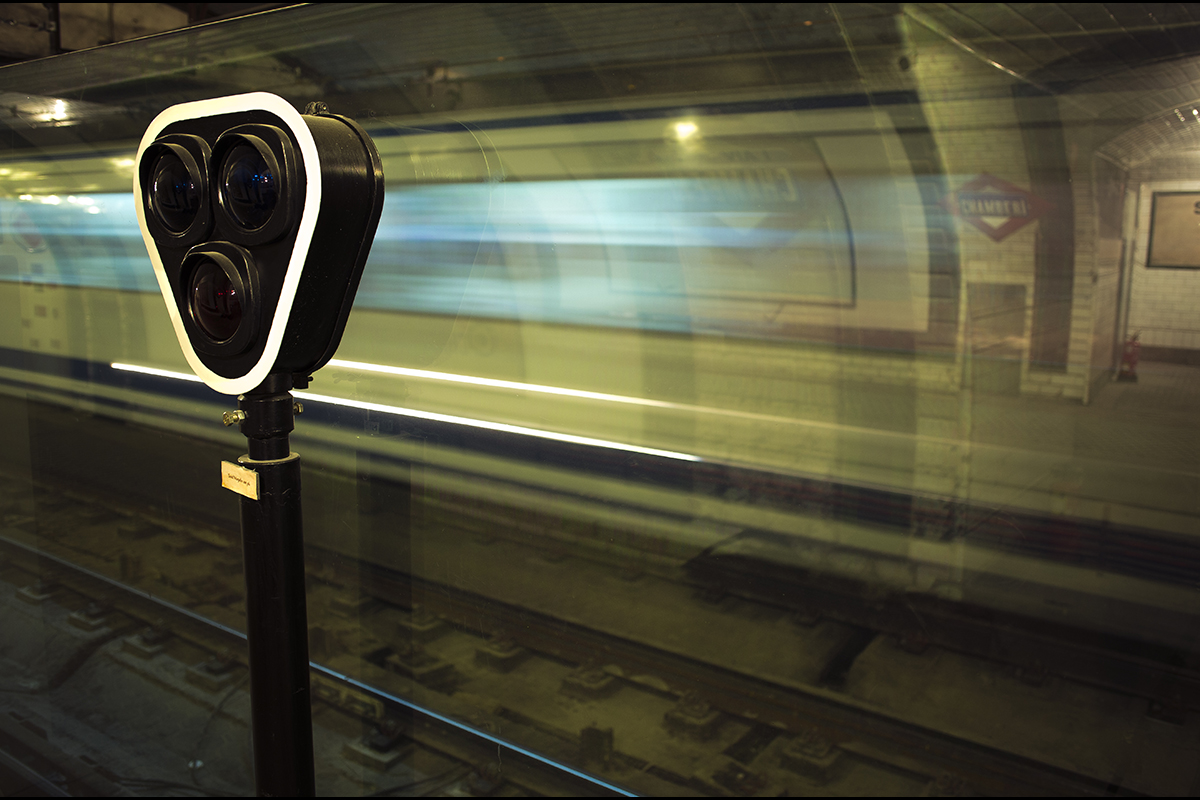 "This stop is so charming and has the ability to take you way back in time," comments Mike. "Walls are adorned with adverts from the 20s, original ticket offices still stand and other memorabilia almost 
a century old is on display. This is a place packed full of inspiration, waiting to be photographed."
Whilst this stop is now a museum, trains still run through the station. This offers a nice chance to practice shooting light trails. Set a long exposure on your camera and shoot at the train as it speeds past you – this motion will create a mesmerising trail of light.
You can find all of Gabriel and Mike's locations talked about in this article on the map in the downloadable PDF below. As you go from one to the next, remember to keep your eyes open and look around; like all cities, Madrid is full of great photo opportunities.