Behind the Lens: Richard Walch, Canon Ambassador
German photographer and Canon Ambassador, Richard Walch began his career over 25 years ago shooting snowboarding and skiing. He now specialises in dramatic action shots of snow and water sports. He is always on the move, keen to find out what technology has to offer and how this can influence his photography and filming in a positive way.
Richard recently travelled to southern Argentina to shoot the stills for our latest Come and See story, skijoring. We caught up with him to talk about the challenges of shooting from a helicopter and capturing fast action.
What first got you into photography?
"When I was 16, there were two things I was into: photography and snowboarding. I realised I was not good enough to become a pro snowboarder and get sponsored - so I decided to take my camera to the mountain and photograph the new trendy sport of snowboarding instead. For around 10 years, I was living a sport to the fullest and I was part of the international snowboarding family – chasing the best snow around the globe. I just followed my heart and this naturally became my career."
What do you love about working outdoors?
"I love everything about being outside – I love the cold, crisp air, the hikes, and the moment you reach a peak. It's so real and that's what I love to photograph. For the best light you're often shooting at the very edges of the day – in the early morning or evening. You may end up spending all night on a mountain.
Shooting snowboarding and sailing also connected me with people sharing the same passion as me: we wake up at five in the morning with two common goals: to come home safely and have some killer images in the bag."
What challenges are there in shooting fast-paced action?
"Nature and sportspeople won't wait for you to get a shot - so you have to be really organised with your kit and always ready. When you're shooting athletes, you have to work with them. You talk to them, suggest what would make a perfect photograph and then they tell you how they could perform. Once you learn how to shoot snowboarders or skiers, you've pretty much cracked shooting fast action."
During our trip to Argentina, you shot photos from a helicopter. How tricky was that?
"I wanted to get a feeling for the terrain the day before the skijoring shoot. For a photographer, the helicopter is the ultimate tool for understanding geography and for shooting beautiful photos. However, to get the best shots you have to totally remove the helicopter door and leave it behind! And if you do that, then you have to use a climbing harness to screw yourself in for safety. Of course it is scary but my trick is to prepare 100% before the take off and then just focus on the images – so there is no time to ask yourself what you are doing and where you are (it is too late anyway), I have decided to fly, so let's make the best out of it and trust the pilot. If it does not feel right – do not lift off."
Was that one of the riskiest things you've done in your career?
"(Laughs) No!
Actually, shooting the skijoring stills was one of the riskier things I've done. I was laying on a snowmobile going at 45km/h. The distance between me and the horse was less than 2m and I was laying parallel to under its belly. I did think, 'What if the horse crashes into the snowmobile or the other way around?' But after a split second I forced myself to relax and concentrate to capture this incredible moment. Despite the possible danger, I've never felt such a powerful and positive energy from an animal. And afterwards, I was so stoked – because I did hold on and pulled it off!"
How does the connectivity of Canon products help you in your work?
"As a photographer, you have to constantly show people what you do. Some people share photos from their phone, but that's too limited for the things I shoot. In my line of work, I want to be able to shoot and share my first rate shots straight away. I have a PowerShot G7 X which is really handy if I'm travelling and want to share some personal shots. Just with one tap I can connect it to the canon app on my smartphone. Processing and sharing is afterwards just a couple of clicks away."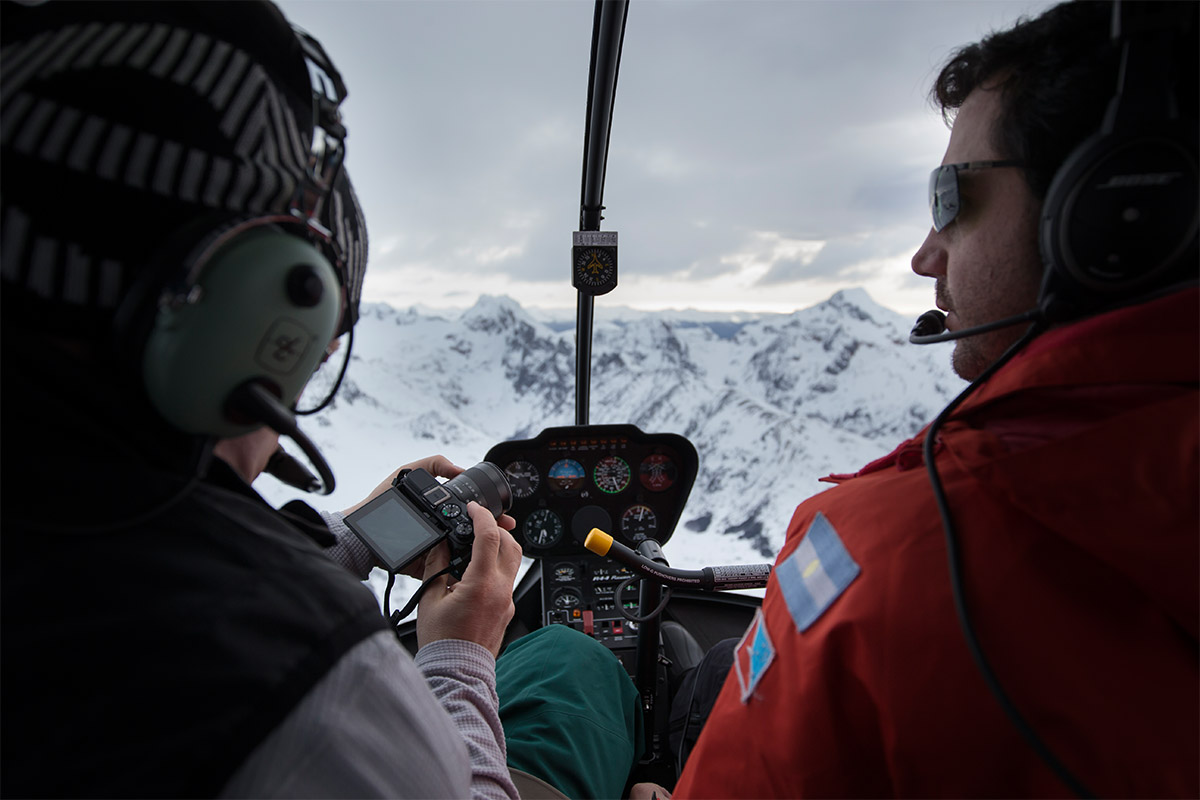 What are you planning next?
"Well – let's wait for new snow and than do it all over again! Maybe another Heli trip to Alaska in April if Santa Claus is still up for a wish."
See more of Richard Walch's work here.